For children 8 – 12 years old
Wednesday, August 7, 18:30 – 20:30
With Eleftheria Gerari
Price:
10 euros per child/ 15 euros for two siblings
A few words about the workshop
With the materials which will be provided by the artist (scissors, glue, clippings from used fairytale books) the children will make up a story and construct it into a 3D card to take home.
About the artist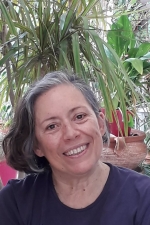 For Eleftheria Gerari books have always been part of her life.
One day though, about fifteen years back, a droll thought dawned upon her:
Is there more to a book than just its content?
She has read somewhere that ideas usually start on a sheet of paper.
Well, in her case, it starts on an already read book…
She spends hours riffling through her treasure, feeling the denseness of paper, its texture and hue. Then, she starts folding and cutting, page by page, creating bulges and dents until her eyes discover images of fields and mountains and rivulets.
So, her little paper landscapes emerge out of books that are no longer tools to explore the world out there, but rather a means for her to discover new worlds within her.