For children 6 – 10 years old
Thursday, August 22, 18:30 – 20:30
With Anna Apergi
Price:
10 euros per child/ 15 euros for two siblings
A few words about the workshop
Through movement games, we dance using imagination, our bodies, voices and music. We explore movement, discovering our bodies, studying space and time and relishing our trip into movement. With improvisation and the principles of contemporary dance as our starting point, we learn to collaborate, work solo or as a team.
About the instructor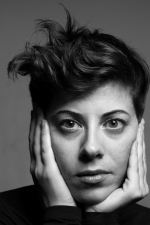 Anna Apergi is a graduate of Rallou Manou Professional Dance School as well as of School of Philology, Aristotle University of Thessaloniki. She has attended courses and seminars with international and Greek dancers and choreographers. She has danced for El Danseu Festival, Athens and Epidaurus Festival, Onassis Cultural Centre Athens, Greek Choreographers Festival, Documenta 14, Kalamata International Dance Festival, et al. As a choreographer she has collaborated with the Municipality of Zografos and the Municipal Regional Theatre of Roumeli, and she also choreographed her own works with the groups Elasma and Lalun. She teaches classical and contemporary dance, music & movement, and improvisation at dance schools and theatre groups. She has taught the educational movement program Skytali to public schools in Attiki, and in collaboration with her literary team she has published a teaching manual for games related to movement, titled 'Why the game "runs" and "falls"'.