Saturday, July 27, 18:30 – 20:20
For children 4 – 6 years old, 18:30 – 19:20
For children 7 – 12 years old, 19:30 – 20:20
With Zoi Spanou
Price: 8 euros per child/ 12 euros for two siblings
A few words about "Zumba kids"
Perfect for our younger Zumba® fans! Kids 4-6 and 7-12 years old get the chance to be active and jam out to their favourite music.
How It Works
Zumba® Kids classes feature kid-friendly routines based on original Zumba® choreography. We break down the steps, add games, activities and cultural exploration elements into the class structure.
About the instructor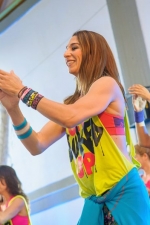 Zoi Spanou was born in Athens and since the age of 5 she started attending ballet classes on the system of Royal Academy of Dancing (RAD). She completed her studies and graduated from Anna Petrova Professional Dance School, while at the same time she enrolled in other schools too. She was certified by Studio One as Pilates instructor, as well as Zumba Fitness ltd. Zumba®️ instructor, Zumba®️ kids & Zumba®️kids jr instructor and Aqua Zumba®️ instructor. She has been working up to date as a teacher of classical and contemporary dance at the Kindergarten of Athens College (Hellenic-American Educational Foundation), but also at various schools and gyms as well, where she has been imparting her love for dance to children and adults.