Hatha Yoga with Anna Foskolou
Thursday, August 1 – Saturday, August 31
Tuesday – Thursday – Saturday: 10:00 – 11:30
Price:
Drop in: 10 euros
Package of 5 lessons: 40 euros
A few words about yoga class
Keenly interested in movement of bodies and observing how deep hatha yoga's healing effect is in every level, I was motivated to select this method in order to share my knowledge on body and movement. During each class, we work on movement, breathing and ceasing of body movements (asanas, pranayama and meditation). The class is open to all levels of trainees and is adjusted according to the needs of the group.
About the instructor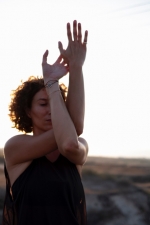 Anna Foskolou grew up and lives in Greece. Her relationship with physical exercise started quite early through her passion for dance. Over time she discovered Yoga and was fascinated by the way she was benefited. As practice was keeping on, the decision to deepen her knowledge and concern herself in teaching Yoga came up spontaneously.
In 2012 she completed the 200 hours basic training course with Christos Harikiopoulos (Yoga House Athens) and is now an active member in Yoga Alliance. Since 2013 she has been teaching Hatha Yoga, Vinyasa Flow and Yin Yoga aiming at promoting health and wellness in physical, psychic, mental, energy and spiritual level.
Although teaching constitutes an essential part of her daily routine, she remains a student of Yoga and continues to be inspired through seminars and courses.