Friday, August 16, 18:30 – 20:00, for children 1 – 3 years old
Saturday, August 17, 18:30 – 20:30, for children 4 – 8 years old
We are communicating through music and movements with the representative of Kindermusic in Greece Mrs. Eleni Lagoudaki.
Price:
10 euros per child/ 15 euros for two siblings
A few words about the workshops
Friday, August 16, parents and children 1-3 years old: Inspired by Nature we explore sounds & melodies, expressing ourselves through music and movement, and communicating effectively. Parents and children together, with joy and Natural Harmony!
Saturday, August 17, children 4-10 years old: Melodically inspired by Conceptual Art, Land Art and Sonic interpretation through music and movement, the children explore, discover, create and learn about the visionary reality. Stones and Marble from Tinos, Colors, Instruments, Voice and Body, all in perfect Natural Harmony!
About the instructor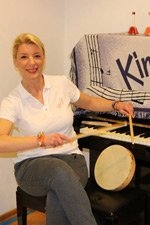 Born and raised in Athens, Greece, Eleni Lagoudaki has been living with her husband and their two children at the beautiful island of Tinos for the last 20 years. A place that has so much energy and light that becomes an inspiration to each and every openminded person.
Music, Language, Creative Movement and Art have always played a major role in Eleni's life from a very young age. She started piano and music lessons at the age of 5 and continued her official music education at the Musical Institution of Athens. Eleni holds a degree as a Music and Piano teacher with honors. Many years of experience in teaching at music schools and Institutions in both Tinos and in Athens. She has performed as a pianist in many concerts and has collaborated with the Music school of Mrs. Gianna Akrivopoulou, the National Concevatory of Halandri in Greece along with her colleague Popi Charitaki at "Music Steps" and at the "Soar Valley Music Centre" in England.
Eleni holds a B.A in English and American Literature, a minor in French and Performance Arts from the University of LaVerne, having also successfully attended methodology courses in the Teaching of English as a foreign language to young learners at the Hellenic American Union in Athens. Having been an advanced Ballet student for 15 years at the Dancing school of 'Rallou Manou', she has always used rhythmical movement and creative expression as an interpretation tool for both musical and language acquisition.
Seminar speaker: 'The Art of teaching through the Arts' and 'The Art of the Sounds', 'Piano & Creative Movement', 'Music & Language'.
Creator of the interractive educational curriculum "Soundsteps by Eleni Lagoudaki".
Eleni is a specialized Kindermusik pedagogue with a degree from Kindermusik University and the Representative of the Music and Movement curricula in Greece. She has represented Greece at the European Kindermusik Conference in Cyprus with the participation of 35 countries the year of 2012.
Conducting Kindermusik programs at the Cultural Foundation of Tinos as well as in other countries abroad (from newborn age). Multi-year experience in Family time classes with the active participation and development of both parents and children. Music and every form of Art is the heart of communication, knowledge and evolution in every developmental field!
Kindermusik & Music Therapy: Conducting individual and group lessons with children of all abilities.
Founder of the FamilyArt team with parents, educators and children.
Representative of Greece at the Kindermusik International Conference in Cyprus with 35 countries, July 2012.
Active member of Hoopla Education. Carrying out the "Sticks & Stones" program in collaboration with the award-winning Conceptual Artist Paul Frank Wagner for the first time in Greece and nationwide at the Family time level. Children aged 3 years acquire their own Art Portfolio. By using simple Physical Materials they express, envision, learn, feel, communicate, evolve. They master Conceptual Art in perfect harmony with the musical and kinaesthetic approach of each theme!
An active member of the local Cultural Committee, having organized and participated in many Cultural events and educational workshops for children. Since 2000 she has directed and narrated musical fairytales with the active participation of children.
Improvisation has always been a significant educational tool in her teaching processes and this led her to the path of Contemporary Art. She inspired and conducted a unique educational workshop with the participation of local and foreign children at Tsoclis' Museum of Contemporary Art in 2013. The title was:" Through the eyes of the children a piece of Contemporary Art can reveal unique Sounds, Rhythms and Movement."Her strong belief is that when the journey of creative expression begins, an educator and awakener may inspire children to 'see' beyond the obvious from a very young age and communicate through the magical power of the Arts !
She has been conducting Educational Workshops – Seminars with the title of "Sound Arts" and "The Art of Teaching through the Arts"
Interactive seminars addressed to both Parents and pedagogues with an emphasis in practice. "Social-emotional development through the communicational power of the arts". Recent representation at the International Music Education Conference at the European University of Cyprus as well as at the J. Karras Nursery School of the Athens College with the participation of 35 educators and 350 students.
Valuable Collaboration with Balanced Beginnings Greece and Robert Muller Schools, UNESCO Prize 1989 for Peace Education.
Owner of the Multi-Art &Education Institution 'Soundsteps by Eleni Lagoudaki' in Tinos and the first Kindermusik studio in Greece.
Member of the Hellenic Association for Music Education (EEME).