Pilates classes with Thalia Spanou
Friday, July 26 – Friday, August 23
Monday – Wednesday – Friday 10:00-11:00
Price:
Drop in: 10 euros
Package of 5 lessons: 40 euros
Information about Pilates
Pilates method was developed in the late 1920s by Joseph Hubertus Pilates at a concentration camp in England. The method is considered autobiographical and continued to evolve until 1967 that its inventor passed away at the age of 87.
Since then, Pilates method has evolved significantly and now consists of 500 organ and ground exercises that yield unbelievable results and benefits. This method requires intense physical effort, but also spiritual participation. All exercises are aimed at improving body posture through the strengthening of the trunk muscles and are based on eight values:
Concentration, Breathing, Centering (Powerhouse), Control, Precision, Flow, Total Muscle Recruitment and Symmetric Muscle Development.
The combination of these core values coexists and flows in every movement, at the time each exercise is practiced.
It is a flexible method and can be applied by everyone, regardless of age and physical condition.
Joe himself said that "in 10 lessons you start to feel the difference, in 20 lessons other people start to see the difference and in 30 lessons you have a completely different body."
About the instructor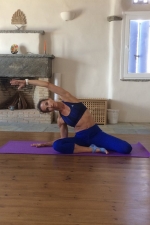 When Thalia Spanou realized how deeply the fitness industry appealed to her, she decided to enter into it on a professional basis. Her aim was to communicate to people the benefits of exercise in mental and physical health encouraging them, through proper guidance, to love exercise and initiate it into their daily lives.
Her training in Pilates started back in 2011 –Pilates Training with Alan Herdman (a 2nd generation Pilates instructor) at Studio One, School of Fitness & Aerobics (G. Xiros)– and was completed in 2015 obtaining the Pilates Equipment Certificate (Reformer, Cadillac, Springboards, Wunda Chair, Anatomy of movement, Alan Herdman variations) at the same school. Since then, she has attended numerous seminars concerning Pilates application on various ailments, such as scoliosis and rectus abdominal diastasis, as well as applying the method to pregnant women.
She has been in fitness environs since 2009. From 2013 onwards she is an active member in a series of group programs titled "The Concept" in various fitness centers of Athens, teaching groups as well as offering personal training.