July 12 – 30
Visiting hours: Daily, 19:30 – 22:00
Opening: Friday, July 12, 20:00
Free Entrance
About the artist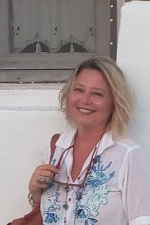 Eleftheria (Eri) Hadjistilianou was born in Athens, while her origins are from Macedonia and Asia Minor. Her studies had to do with psychology – holistic therapy, painting and ceramics. She studied painting at the Vakalo School and took sculpture – ceramics lessons at the laboratories of Themistokli Tounta, Ileana Inge, Michalis and Evi Sklavena.
She participated in group and individual exhibitions in Athens and Tinos Island, her favorite place for inspiration, creation and personal renaissance. In her exhibition "THALASSINES METAMORFOSEIS" (Sea Transformations), she leaves her fantasy wandering in Surreal styles of release through the "wet sea element" of emotional purification. Each piece of art she creates is unique as our touch and glance to life are unique, inspired by the moment! (that's why she does not use prefabricated samples for her creations). The colors she uses are oxides, clay colours, glass and smalt colors.
«Aesthetics is the science of feeling». Goethe's wise words represent her view in terms of art and life.